This guide outlines a weekly plan and guidelines for our facilitators to engage participants in maker activities in a physical or virtual learning space.
Note: We recommend educators proceed at their own pace and not feel bound to follow the daily steps in the plan rigidly.
Day 1: Participant introductions
Introduce yourself and the plan for the group activities. Ask others to introduce themselves and engage them in an icebreaker activity.
In this guide, we recommend WhatsApp's use to organize activities virtually as our target audience is in India, where the platform is widely used. To set up a WhatsApp group:
Day 2: Activity introduction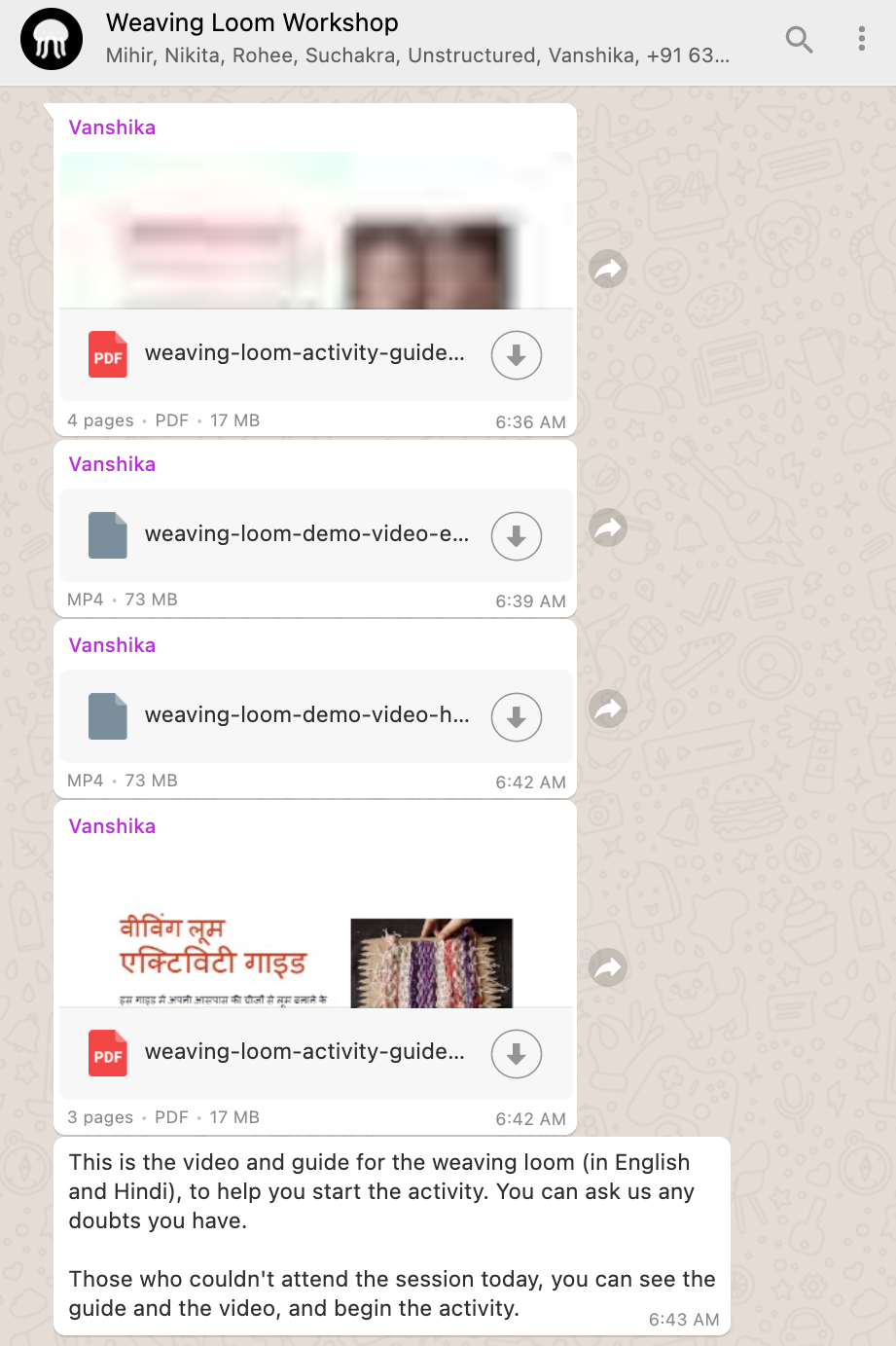 Use our getting started resources (e.g., how-to guide, a demo video, voice notes, etc.) to introduce an activity. Browse some activities on our Kriti Activities website that we have developed.
Use facilitation tips to engage students in discussion around the activity and share inspiring examples to open up their minds about the endless possibilities and connection in everyday life.
Encourage participants to use the resources for inspiration and getting started and build their own personalized projects.
Day 2-4: Making and sharing progress on projects
Motivate participants to share their progress on projects for feedback.
Follow our facilitation tips at the bottom of this guide to engage participants in group conversations.
Ensure every participant has the resources, guidance, and support they need to progress on their projects. For example, if a participant does not have access to materials, share with them alternative materials to use.
Day 5: Project showcase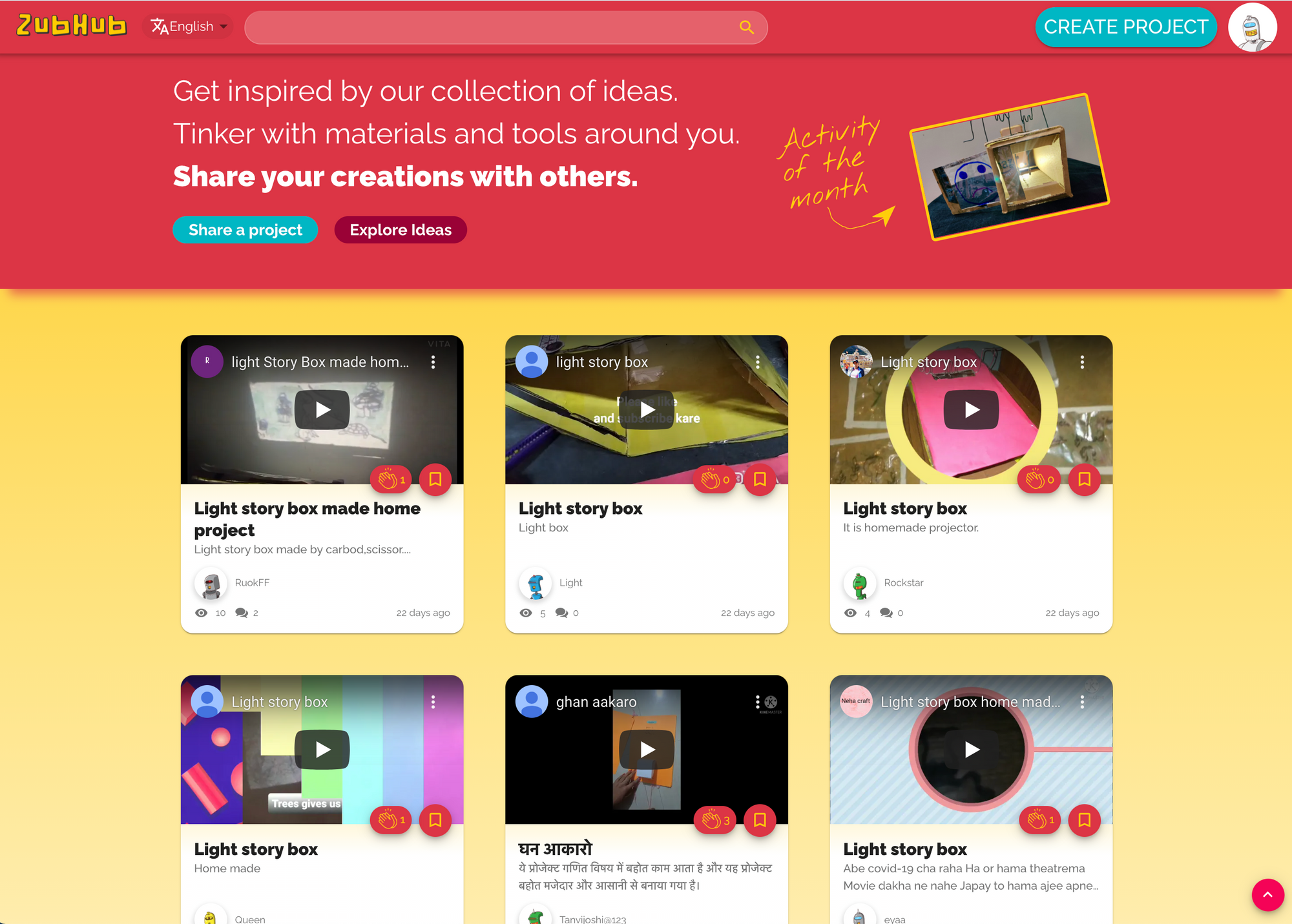 Invite participants to document their projects by making a video of it and including a response to the following questions:
  * What name would you like to give to your project?
  * What is your project about, and what do you like most about it?
  * What are the types of materials and tools you used?
  * What was your making process?
  * What were some of the fun and challenging moments you experienced while working on it?
Day 6: Peer feedback
Inspire participants to give peer feedback on projects uploaded to ZubHub.
Share some tips with them on how to provide useful feedback to their peers: a) share one thing that you appreciate in a project. b) Share what to improve in a project with some ideas on how to go about it.
Day 7: Reflect and iterate
Propose participants to reflect on the lessons learned so far and feedback received from peers or facilitators.
Motivate them to try complex iterations on their project and personalize it even further.
Facilitation tips
Pick a time in a day to send messages in a virtual setting so that it reaches everyone. Share communication guidelines: dos and don't of messaging, specific media types, or emojis for group conversations.
Ensure at least one facilitator in 20 participants and a recommended group size of no more than 3-4 participants. Encourage children to work in pairs or groups with their parents, siblings, friends, or peers.
Help participants self-explore a topic by asking them questions, sharing ideas, and encouraging them to tinker with materials. Some examples of questions you can address to participants: What did you learn from this activity? Could you relate a real-world phenomenon while doing this activity? What process did you follow while working on this project?
Encourage participants to enjoy their creative journey as much as the outcome of it. Avoid presenting any facts, hand-holding participants, or leading them to reach a particular result.
Give participants the confidence they need to join in discussions. Some might not be familiar with the discussion-based approach, especially children who attend a school curriculum strictly; they might assume that this is part of some evaluation process.
External resources